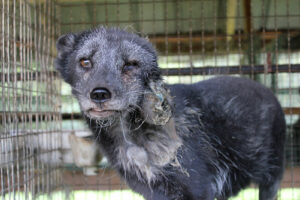 Target: Tamara Finkelstein, Secretary of the UK Department for Environment, Food and Rural Affairs
Goal: Endorse ban on fur imports and sales across the United Kingdom.
A long-standing, destructive affront against animal welfare could finally be on its way out permanently in the United Kingdom (UK). In recent years, the countries of Great Britain (England, Wales, Northern Ireland, and Scotland) have placed a ban on fur farming. If a new proposal goes through, the UK could soon add abolishment of fur sales to its quest for stronger animal protections.
While certain products (such as furs from domesticated pets or seals) are prohibited from being imported, most other fur sales are still legal. Since leaving the European Union, the United Kingdom now has the authority to reverse course. Fashion designers have already lent their support to the effort. The UK government is asking for public input on potential bans for an industry that counts lifelong confinement in tiny cages and death by electrocution and gas chambers among its many atrocities.
Sign the petition below to support the United Kingdom in becoming the first large region in the world to end the promotion of these barbaric displays of animal cruelty for profit.
PETITION LETTER:
Dear Secretary Finkelstein,
Death by gas, electrocution, lethal injection, and possibly even being skinned alive: such inhumane acts are often associated with past atrocities. Yet for millions of living beings, these horrors are a very modern reality. Sickening videos of torture and slaughter taking place on fur farms have shocked any person with a conscience. Every time the results of this bloodshed are displayed in shop windows, the images validate and glorify animal cruelty. Worse, the blood money given to these grotesque products enables and upholds an industry long past its place in a humane society.
You have touted how Britain has some of the world's highest animal welfare standards. Help make the United Kingdom a true haven of humanity by at last abolishing fur sales and imports across the region.
Sincerely,
[Your Name Here]
Photo Credit: Oikeutta eläimille