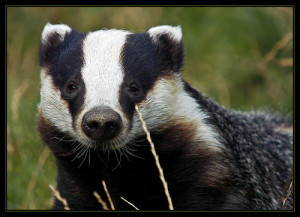 Target: Chris Hadkiss, Chief Executive of the Animal and Plant Health Agency
Goal: Hail treatment that will save both badger and cattle lives.
Culls deemed "ineffective and inhumane" by experts eradicate upwards of 100,000 badgers every year in Britain. This ForceChange petition demanded an end to the wholesale slaughter of these innocent animals. United Kingdom leaders have finally listened to the sustained outcry, implementing measures that could soon make this cruel policy a relic of the past.
The promising government reversal on badger culling began when the UK environmental ministry prohibited Derbyshire—a major site of culling—from allowing farmers to deploy death traps for badgers. Now, the ministry has announced an even more ambitious plan to replace badger culling with a humane and medically sound solution.
The widespread culling program began as an effort to stop the spread of tuberculosis (TB) from badgers to cattle populations. While the dictate is estimated to have mercilessly and painfully killed over a million badgers since 2012, it has demonstrated little to no effect in actually saving cattle. A committed effort by researchers, though, has reportedly led to a TB vaccine for cattle. This breakthrough treatment will replace badger culls as the number-one and primary tool to fight the disease, phasing out and eventually stopping the culls.
Sign this petition to thank the dedicated scientists who will help end the brutal, government-approved assault on a protected species.
PETITION LETTER:
Dear Mr. Hadkiss,
The badger culls approved by the British government over the past seven years have not saved thousands of animals as intended. They have, however, succeeded in killing a million-plus badgers. Your commitment to and ultimate success in finding a cattle TB vaccine will ultimately save both cattle populations and the countless badgers targeted in their name.
Congratulations on your breakthrough discovery, and thank you for ensuring the end of a misguided, cruel practice. This team has become true leaders of animal conservation in the United Kingdom.
Sincerely,
[Your Name Here]
Photo Credit: Joy Killian Woods