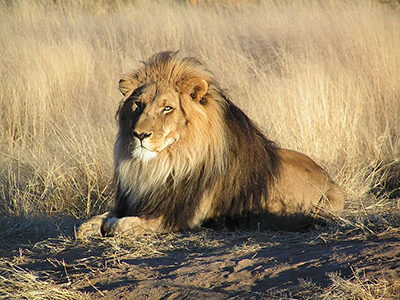 Target: Francis Nhema, Minister of Environment, Zimbabwe
Goal: Create an exclusion zone to protect lions in national parks from hunters and punish hunters who kill these protected animals.
Just two years after the world mourned the loss of Cecil the Lion, a cub he had fathered has now met the same sad fate. The now grown cub, named Xanda, had resided in Hwange National Park in Zimbabwe, until recently when a safari operator turned in his radio collar indicating he had been shot. Researchers monitoring him claim Xanda had strayed outside the park boundaries prior to being killed.
As lions cannot be expected to remain within artificially-drawn boundaries established by humans, we must do more to help ensure that lions are protected once they leave the confines of national parks. With the wild lion population dwindling throughout Africa, losses such as Xanda's are a devastating loss in terms of biodiversity.
Conservationists have argued that exclusion zones of at least 5km must be enforced around all national parks to protect wildlife from big game hunters. Additionally, there must be penalties for killing monitored animals such as Xanda, who had provided much scientific data during his six short years of life. Sign this petition to urge the Zimbabwean Minister of Environment to make these important changes.
PETITION LETTER:
Dear Minister Nhema,
With the number of wild lions plummeting in recent decades, the death of any healthy male lion should be considered a tragic loss. In a sad example of the crises that lions are currently facing, one of the cubs sired by the famous Cecil of Hwange National Park has now been shot as well. In order to ensure that the lions who reside in this conservation zone are actually protected, more must be done to keep them out of the sights of hunters.
We urge you to listen to the proposals from several prominent conservationists and organizations who have called for the creation of exclusion zones around national parks and for the prosecution of individuals who kill protected lions. Without swift action, one day soon we may find ourselves in a world without these magnificent beasts roaming Africa.
Sincerely,
[Your Name Here]
Photo Credit: Kevin Pluck