Educational Series: Animals of the Arctic National Wildlife Refuge Are Threatened by Oil Drills
At 19.3 million acres, the Arctic National Wildlife Refuge in Alaska is one of the last truly huge, intact ecosystems in North America. It's one of the few places where all three of the continent's bear species–polar bears, grizzlies, and black bears–can be found in close proximity. Its Coastal Plain is the calving ground for thousands of caribou who migrate there every spring. More than 200 migratory bird species nest in the Refuge in the summer before heading south in fall to fan out across the globe. And beneath one of the most ecologically delicate parts of the Refuge lie untapped oil and gas deposits–a potential source of profit for oil companies.
The Arctic National Refuge was established in 1960 and expanded in 1980, and eight million acres have already been permanently protected as the Mollie Beattie Wilderness Area. However, for decades a political debate has raged over whether to protect the rest of the Refuge as Wilderness, or open it to extractive industries that would irreparably damage wildlife habitat. At the center of the battle is the Refuge's ecologically sensitive Coastal Plain, where the Porcupine Caribou Herd goes to raise the next generation of calves every year. At more than 200,000 animals, the Porcupine Herd is one of the last remaining great herds of large animals of the kind that once roamed across North America.
Not only are the Porcupine caribou a fantastic natural spectacle in themselves–they are an essential source of food for animal predators like grizzly bears, as well as subsistence hunters from the Indigenous Gwich'in Nation who have inhabited the Arctic for thousands of years. But the caribou cannot survive without a safe place to raise their calves. And if the Coastal Plain is opened to oil drilling, the impact on caribou and other wildlife could be fatal.
It's for the sake of caribou, polar and grizzly bears, and dozens of other imperiled Arctic animals that the Gwich'in and conservation groups have fought for years to have the unprotect parts of the Arctic National Refuge officially designated as Wilderness. In 2015, the Obama administration formally recommended that the entire Refuge be made into a Wilderness Area–but taking this positive step would require a vote in Congress. And when President Donald Trump took office he quickly signaled the new administration would support wholesale drilling on the Coastal Plain. In 2017 Republicans in Congress included a provision in their Tax Bill to begin the process of leasing the plain for oil drilling. When Trump signed the Tax Bill into law, wildlife in the Arctic National Wildlife Refuge were placed under threat as never before.
Drilling in the Refuge is not a done deal…yet. Before oil companies can start their destructive work in earnest, there will have to be a public comment period and a lengthy approval process. It may be years before oil extraction can start–and in the meantime Congress could decide to reverse its decision to allow drilling. The next several years will probably determine the fate of this special place and the wild animals who call it home. It's therefore more important than ever that we understand what is at stake.
More than 90% of Alaska's coastline is already open to oil drilling. This makes the Refuge critically important for species like caribou and polar bears who are under threat over much of their range. The Refuge is Alaska's most important land denning habitat for polar bears–and as sea ice melts with warming global temperatures, land-based dens are becoming increasingly important to this imperiled species' survival. Polar bears are already at imminent risk of extinction because of climate change. Additional stressors like oil drilling in their denning grounds could prove to be a death knell for these majestic predators.
Meanwhile, the Porcupine Caribou Herd is one of the last great large animal migration spectacles in North America. Reminiscent of the vast herds of bison and other hoofed mammals that once roamed the contiguous United States, the hundreds of thousands-strong Porcupine Herd is partly why the Arctic National Wildlife Refuge is sometimes referred to as "America's Serengeti." Noise and other activity from oil drilling could stress caribou during the most at-risk phase of their life cycle–when new calves are born on the Coastal Plain–leading to fewer calves reaching maturity. Meanwhile, roads and other development associated with drilling would fragment caribou habitat.
Caribou are not the only large hoofed mammals to call the Arctic National Wildlife Refuge home. Another of the most impressive species is the musk ox, an animal only found in the far northern regions of Alaska, Canada, Russia, and Greenland. Weighing up to 800 pounds and covered in a dense coat of long hair, musk oxen are the quintessential Arctic mammal equipped to survive frigid temperatures. During the Ice Age this species ranged south as far as Kansas, but their population retreated northward with the melting ice sheets about 10,000 years ago. Today musk oxen are well known for working as a herd to protect their young. When threatened by wolves, one of their main predators, the adult musk oxen in a herd will gather in a circle formation with the young calves inside. The formidable horns on an adult musk ox's head make an imposing barrier for any wolf to get past.
The Arctic Refuge is also inhabited by moose, Dall sheep, and predators like the Arctic fox and wolverine. An astonishing variety of birds live in the Refuge, including raptors like bald and golden eagles, peregrine falcons, and snowy owls. Perhaps most awe-inspiring of all are the enormous flocks of migrating waterfowl such as snow geese, swans, and eider ducks that arrive in the Refuge every summer. Other rare species that depend on the area for survival include yellow-billed and red-throated loons.
In fact, the Arctic National Wildlife Refuge is a sight of global importance for bird conservation. Waterfowl and shorebirds that nest and raise their young in the Refuge migrate south to places as far away as Africa, Southeast Asia, and South America. Dozens of other species spend the winter months in various parts of the contiguous United States. If you are a bird watcher, you will most likely be able to find birds wherever you live who spend part of their year in the Refuge or other nearby parts of the Arctic. This means what happens in the Refuge will affect bird populations all over the North American continent.
If oil drilling moves ahead on the Coastal Plain of the Arctic National Wildlife Refuge, even the best case scenario would involved noisy drilling activity and the fragmentation of tundra habitat that would put caribou, polar bears, and migratory birds at risk. The worst case scenario would be a major oil spill at the site of drilling operations. Effectively cleaning up a large oil spill in such a remote place at the Arctic Refuge would be all but impossible, with the impacts of a spill certain to last for decades. This special place might never fully recover from the effects of oil drilling.
Fortunately, despite inclusion of the oil drilling provision in the 2017 Tax Bill, there is still time to protect the Arctic Refuge. The most effective thing you can do is contact your representatives in Congress and urge them to permanently protect the entire Refuge by designating it a Wilderness Area. Meanwhile, anything we can do to reduce our society's dependence on oil–from making cars more efficient to supporting the growth of renewable energy–will reduce the incentive for companies to drill in the Arctic.
If ordinary people across the United States come together to speak out for the Arctic National Wildlife Refuge, this last great intact ecosystem can still be saved. But only by acting now can we ensure a future for the countless wild animals who call the Refuge home.
Photo credit: Bob Clarke
Wait, there's one more step:
Over 1,105,700 Animal Shelter Meals Donated So Far –
Upgrade to a Premium Membership to get a free No Excuse For Animal Abuse shirt, feed shelter animals with the Educational Series and Meal Wheel, sign 100's of petitions with one-click, remove ads, and promote your favorite petitions to millions!

7 day money-back guarantee for new members. Zero risk.
Premium Membership comes with the following perks:
• Get a free No Excuse For Animal Abuse shirt.
• Feed shelter animals by spinning the Meal Wheel.
• Sign 100's of petitions with one-click.
• Feed shelter animals with the Educational Series quizzes.
• Ad-free browsing and voting on which petitions are displayed to millions of people.
Our Guarantee:
Cancel your subscription for any reason within 7 days and we'll refund 100% of your money, as long as you're a first time member.
Frequently Asked Questions:
How are the animal shelter meals donated?
We donate shelter meals through Rescue Bank because they research all shelters, maintain equitable distribution, and track the meals from their facilities all the way to the rescue groups. This ensures that the donation will be utilized in the most efficient and impacting way.
Why don't we just donate meals without providing any perks like the Meal Wheel?
We've been at this since 2008 and have learned that to really make a difference, we need to get people excited and engaged. Our mission is a serious one, but our methods are playful and educational. We're serious about doing good, but also want to make it fun.
Who are we?
We are a family of sites that works to protect animals, the environment, and more. Our sites include AnimalPetitions.org and ForceChange.com. We've been at this for over a decade and are dedicated to protecting and defending animals and the environment. If we can have some fun and improve the world, then we're accomplishing our goal!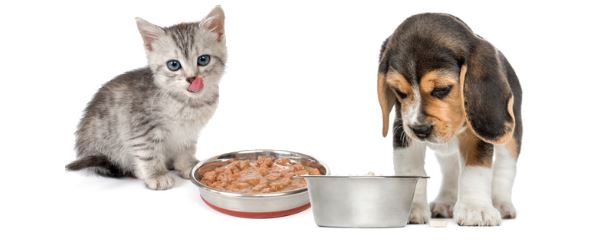 We've Been Doing This for Over a Decade and Others Have Taken Notice:
Testimonials:
"Thank you SO much for the premium feature of being able to sign multiple petitions with one click. Many of us go for hours at a time signing each and every petition and crying as we read them. I have often wished for a way to sign my name on every petition because I passionately support them and they all need our voice. This is the best thing – thank you very much!" -Karilyn K., Premium Member
"This is just the most amazing wonderful service that makes me so happy! To be able to feed shelter pets is just the greatest feeling. Thanks again for this, and for all you do for the most innocent and helpless among us, the animals. I'm lovestruck." Sandra Z., Premium Member
"I love the upgrade option and I am so glad I did it.....it enables me to stand with you and many others to fight for the justice these precious souls deserve! We are their voice!!!! And....I adore helping to feed them as well! The spin the wheel game is fun....and I like doing it everyday to help! Keep up the wonderful work....and I know....every click makes a difference!" Dorothy B., Premium Member
"I am so excited to become a Premium Member and to have one-click signing, as I was spending countless hours signing petitions...not that I mind doing it, but my goodness, there sure are a lot of them. I always hope that my signature somehow helps, because these people that abuse/torture animals, need to be put away. As you can tell, that is my passion, I have such a heart for animals, and I want to be their voice." Darlene R., Premium Member
"Thank you so much! I love being a premium member and spinning that wheel every day, especially when I land on 4 or, best of all, 5 meals. Thank you for all you do, we are all so grateful for you." Sandy T., Premium Member
"With deepest Aloha, You have no idea how grateful I am for you!" Jan L., Premium Member
"Thank you for the Premium Membership option. I really appreciate that I can sign multiple petitions with one click. It's great! Thank you for the work you do." Ashley H., Premium Member
"I absolutely love the Educational Series!" Yvonne L., Premium Member
"I am a premium member and religiously sign every petition. THANK YOU for this platform. I also vote for the petition nearest my heart, sometimes voting globally, sometimes I am caught by an individual animal's plight. What gives me great pleasure is noting that almost always, the percentages have no more than a 6-7% spread. It means that, overall, everyone cares about all of the petitions ALMOST EQUALLY! LOL, I also spin that wheel, and when I get 4 or 5 meals, I dance around the room! I have long maintained that what someone does to a helpless animal, they will do to a weaker human if they think that they can get away with it. Those who abuse, no matter how many legs their victims have, should be punished to the fullest extent of the law." Rebecca E., Premium Member
"I LOVE LOVE LOVE my Premium Membership! Everything and anything I can do to help animals and contribute to justice in the world makes me very happy!" Jan L., Premium Member
---
Still have questions? Email us: animalpetitions@forcechange.com