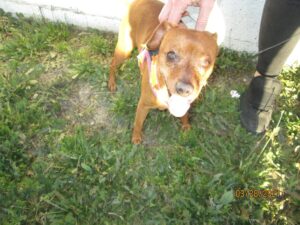 Target: San Bernardino County, California District Attorney Jason Anderson
Goal: Give prison sentence to previous offender who allegedly threw service dog through window.
Ruben Escobedo was arrested for allegedly throwing a former service dog, named Bugs, through a motor home window. He needs to receive a lengthy prison sentence if he is found guilty of hurting this unsuspecting animal.
Escobedo reportedly had been previously released under the Post Release Community Supervision program after being convicted of an earlier non-violent crime. Although a person is discharged when released under these conditions, their behavior is still monitored by a provided county agency. Thankfully, Bugs did not suffer any major injuries as a result of the reported incident. However, he now has a limp. It was determined that Bugs does not belong to Escobedo, and furthermore that the dog did not do anything to provoke the reported attack.
Sign this petition to demand that Escobedo be required to serve the maximum time in prison if it is found he committed this apparent act of animal cruelty.
PETITION LETTER:
Dear District Attorney Anderson,
Authorities recently arrested Ruben Escobedo for reportedly throwing a retired service dog, named Bugs, through someone's motor home window. Police indicated that Escobedo threw the dog through the window for no apparent reason. It is important that he be justly punished if he is found guilty to better ensure that other animals in the community will remain safe.
Escobedo reportedly had been released from prison for a prior offense because the U.S. Supreme Court required states to set approximately thirty thousand prisoners free, who had committed non-violent and lesser offensive crimes. However, he was still under the supervision of  authorities at the time of the reported incident. Although Bugs only developed a limp as a result of the alleged mistreatment, dogs are capable of suffering from P.T.S.D. (Post Traumatic Stress Disorder) after they experience harsh abuse. Experts further claim that people who take out their anger on innocent animals usually move on to severely hurting or killing people. For these reasons, I demand you seek the longest prison sentence possible and that you further tell the courts that Escobedo should not be granted parole if it is found he purposely hurt this innocent animal.
Sincerely,
[Your Name Here]
Photo Credit: San Bernadino Sheriff's Department