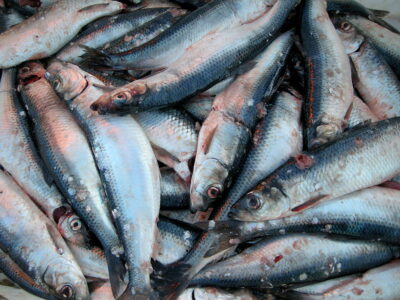 Target: Minister of Fisheries and Oceans Canada, MP Bernadette Jordan
Goal: Stop the fishing industry from devastating the herring population
Off the coast of British Columbia, more than 45,000 dead herring were carelessly dumped into the ocean. Their carcasses cover the ocean floor where they sank after being illegally dumped from a fishing vessel. Not only does the federal government have to take action to prosecute this, and further acts of intentional environmental damage, but they must also put an end to the herring industry.
Many conservation groups are pressuring the government to stop this industry in a responsible manner without leaving thousands of fisherman unemployed. Herring are caught at in alarming quantities. They are sold to Asian markets for the delicacy herring roe or for the fish food industry.
This careless waste of thousands of herring shows how devastating this industry can be on the wild population.  The loss of those 45,000 fish results in literally hundreds of billions of eggs that did not hatch. The species feeds wild salmon and many other wild animals on the coast. A loss this significant has drastic effects on the balanced ecosystems in our waters.
Sign this petition to urge the federal government to put an end to the herring industry.
PETITION LETTER:
Dear Honourable Jordan,
The herring industry causes horrendous damage to the west coast of Canada. This was recently made clear by the illegal dumping of over 45,000 dead herring back into the waters by a commercial fishing vessel.
Herring are a significant part of the balanced ecosystem in the ocean as they are food for salmon and many other wild animals, that in turn feed other species. While this awful act should not reflect on all fishermen, the industry itself does far more harm than good.
There are many environmental groups advocating the end of this industry in responsible ways that would save the fish without leaving honest fishermen unemployed.
I urge you to take action and shut down the herring fishing industry.
Sincerely,
[Your Name Here]
Photo Credit: Atle Grimsby