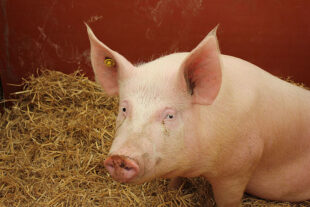 Target: Justin Trudeau, Prime Minister of Canada
Goal: Protect pigs from genetic modification in Canada.
Few people have heard of it, and even fewer actually suffer from the mammalian meat allergy or alpha-gal allergy. The need to modify an animal to satisfy a human's desire is non-existent. The seemingly unethical company Revivicor, however, seized an opportunity to genetically engineer pigs.
The mammalian meat allergy is a sensitivity to alpha-gal sugars caused by the bite of a Lone Star tick. The alpha-gal sugars are found in beef, pork, lamb and venison, and usually trigger minor allergic reactions such as an upset stomach, hives, faintness, and swelling.
The U.S. Food and Drug Administration has approved a line of "GalSafe pigs," which may be used for human consumption, therapeutics, or tissue and organ transplants. The GalSafe pig's DNA is brutally altered to an unnatural degree that has many unknown consequences. Furthermore, there has been little testing done to ensure that meat from the altered animals even benefits people with alpha-gal sensitivity or if transplantation and implantation into human subjects is possible. Despite these facts, farmers in the United States can now raise the modified pigs and sell their flesh labeled "alpha-gal-free pork chops" and "alpha-gal-free bacon."
Not only are these pigs genetically modified, but they are also forced to endure this cruelty to end up living in dirty, small, unnatural stalls. And like all livestock, these animals are gruesomely slaughtered.
Dr. Scott Commins of the University of North Carolina seemingly carelessly stated: "[GalSafe pigs] will specifically benefit human health and improve the lives of patients with alpha-gal allergy." This completely ignorant statement appears to disregard the lives of animals as objects to serve the human population.
Animals should never be subjected to any form of abuse, including gene manipulation, for human gain.  Sign this petition to prohibit GalSafe pigs from entering Canada to oppose genetically modifying animals.
PETITION LETTER:
Dear Mr. Trudeau,
It is shameful for Canada to be the first country to approve genetically modified animals for human consumption. The engineered salmon were rejected in parts of the USA due to environmental concerns. You, however, disregarded these trepidations and forced them on the unknowing population. The FDA has now released genetically altered pigs onto the market, and I am concerned that this repulsive mutation of science will enter the country. Animals should not be regarded as products of human gain and should not be mutated beyond nature's intent.
The FDA's false and ignorant claims could be detrimental to animal and human health, as no studies have been conducted to affirm the safety of the GalSafe pigs.
I plead for you to prevent the infiltration of the GalSafe pigs into Canada.
Sincerely,
[Your Name Here]
Photo Credit: halfalah