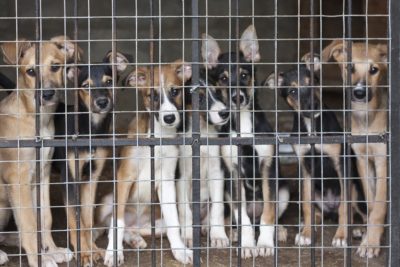 Target: State Senator Charles Schneider, President of the Senate, Iowa
Goal: Don't protect animal abusers from prosecution and legal punishment.
Iowa is the only state in the United States that doesn't automatically charge animal abusers with a felony. In fact, new legislation is set to make the law even more lenient for those accused of animal abuse. Under the guide of protecting business and local economies, Iowa's proposed SSB1195 would prevent local municipalities from enacting an animal protection law if it infringes on the daily processes of a business that profits from animals.
This proposed law is extremely dangerous and will strip animals of the very few protections they have. It shields puppy mills, animal traffickers, and even factory farmers. "The legislature seems to be more concerned about letting these cruel industries earn a profit than they are concerned with the welfare of animals and also the safety of people in these local communities," says Preston Moore, Iowa Director of the Humane Society of the United States.
Sign the petition to demand the state legislature reject these horrific laws. Animal abusers and traffickers should not be shielded from the repercussions of their crimes under the guise of turning a profit.
PETITION LETTER:
Dear Senator Schneider,
News of SSB115 is not only shocking but heartbreaking. Animal abusers and traffickers will be allowed to hide behind this law under the guise of running a business. However, hoarding animals, forcibly breeding them, and cramming them into truck beds to sneak them across state lines is not "running a business." It is abuse.
Iowa has some of the laxest animal abuse laws in the nation. Efforts should be put into strengthening these protections, not stripping them away. I demand that you reject SSB115 and any law that will protect animal abusers from the punishment they're due.
Sincerely,
[Your Name Here]
Photo Credit: Showbiz Cheat Sheet