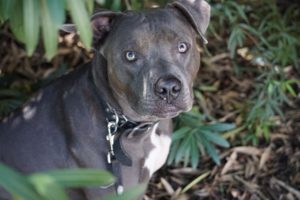 Target: P. David Soares, District Attorney for Albany County, New York
Goal: Punish men who allegedly conspired to shoot a dog to death.
A dog was reportedly shot to death by a recruited gunman in a disturbing case of aggravated animal cruelty and conspiracy. The dog's owner allegedly requested the service after his pet became aggressive with his girlfriend. Now, this poor animal has died and the men apparently behind this troubling plot await prosecution.
Bethlehem, NY police responded to Mark T. Morby's home after they received reports of a dog being shot. An investigation uncovered suspicions that Morby had asked his associate, identified as Gerald B. Graff, to kill his dog following the animal's aggressive actions. Graff seemingly agreed to the request and this innocent animal endured a gunshot wound shortly thereafter.
The dog was transported to Mohawk Hudson Humane Society and later died. Graff and Morby have been charged with aggravated cruelty to animals and conspiracy and criminal facilitation. Graff has also been charged with reckless endangerment and illegal discharging of a firearm. Sign below and demand that these men face the harshest legal sentence, if found guilty of this horrific crime.
PETITION LETTER:
Dear District Attorney Soares,
Two Albany County residents have been charged with aggravated animal cruelty, a felony, and conspiracy and criminal facilitation after they allegedly plotted to kill an innocent dog. The animal, belonging to Mark T. Morby, died of a gunshot wound allegedly inflicted by Gerald B. Graff following a deadly plan seemingly concocted by the two. This terrible fate was apparently a punishment after Morby felt that his dog had been aggressive towards his girlfriend.
All dogs, even aggressive ones, deserve humane treatment at the very least. Morby's alleged actions are despicable and they suggest that he is a danger to other animals. Graff's apparent willingness to shoot an innocent pet is all the more worrisome. I demand that you prosecute this case and seek the harshest penalty possible for all found guilty.
Sincerely,
[Your Name Here]
Photo Credit: Kelly-Preston