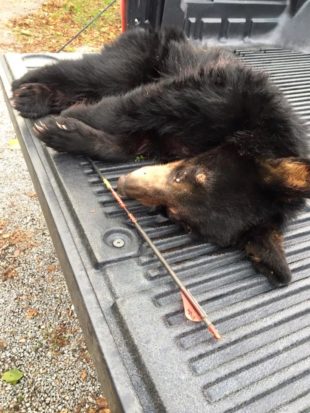 Target: President Donald Trump
Goal: Stop allowing hunting of endangered species in wildlife refuges.
A Trump Administration agency is tearing its mission statement to shreds. The U.S. Department of the Interior, the agency that is supposed to conserve public lands and wildlife, is violating its duties and catering to special interests. This time, the department stands accused of giving hunters free reign to slaughter animals on close to 150 wildlife refuges and hatcheries. Undeterred in its effort to encourage the massacre of as many vulnerable living beings as possible, this supposed defender of conservation also stripped vital protections from endangered grey wolves.
The Interior Department unsurprisingly disregarded science and neglected to analyze the impact of its free-for-all hunting decision on endangered species. A director for the Center for Biological Diversity said, "we've never before seen such a massive expansion of bad hunting practices on these public lands." The Fish and Wildlife Service, the branch of the Interior Department under scrutiny in this case, defended itself by claiming it was "increasing recreational access." These lobbyists and opportunists apparently believe spilling the blood of endangered animals over 2.3 million acres of public land is a good time for all.
Wildlife such as jaguars living in these supposed safe havens will now have their lives put at risk by bullets and by toxic chemicals. Meanwhile, grey wolves have already been put back in the crosshairs of eager hunters after the Interior Department removed the animals from its list of endangered species. This move abruptly took away over four decades of protections that have allowed the wolves to make a slow recovery. These animals still only occupy about 20 percent of their historic habitat, however, and now their resurgence could suffer a permanent setback.
Sign the petition below to demand a federal agency that is supposed to conserve stop doing everything in its power to destroy instead.
PETITION LETTER:
Dear President Donald Trump,
Bear cubs, wolf pups, grey wolves, jaguars, and now untold numbers of animals across 150 refuges and hatcheries: enough is enough, Mr. President. The people are telling you to stop slaughtering wildlife, but you refuse to listen. We recognize that you, sir, are beholden to special interests.
You are the one violating the public trust with every new dictate that opens our public lands and its inhabitants to pillage and slaughter. You have the blood of this nation's natural legacy on your hands. We demand that you not spill another ounce from innocent and endangered living beings.
Revoke hunting permissions for wildlife refuges and wildlife dens immediately. Restore protections for grey wolves. Stop the destruction.
Sincerely,
[Your Name Here]
Photo Credit: West Virginia Natural Resources Police