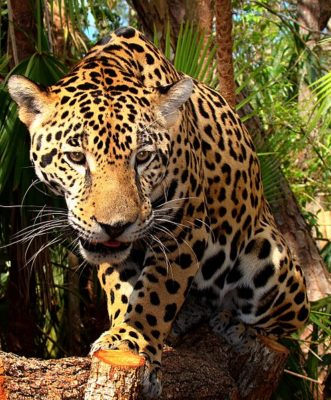 Target: Eduardo Gomes, Leader of the National Congress of Brazil
Goal: Protect millions of animals by fighting back against illegal wildlife trafficking.
The country home to 13 percent of the world's wild animals and plants may be exporting millions of animals a year to captivity and death. A recent investigative report revealed that wildlife trafficking in Brazil has soared, ensnaring endangered species and other vulnerable animals in its grasp. These serious crimes are dismissed by a government that essentially treats them as petty offenses.
While many animals are targeted, certain species like the saffron finch and the jaguar endure particularly high rates of trafficking. The latter is often sent to Asia, where body parts are taken and used for traditional medicines. Over 1,100 of the country's estimated 117,000 animal species fall on to the endangered list. For these imperiled wildlife criminal trafficking is catastrophic, especially in the already-assaulted Amazon rainforests. If the government does not take this threat seriously, the world stands to lose one of its richest reservoirs of biodiversity.
Sign the petition below to demand urgent intervention to save Brazil's wildlife from a devastating, preventable fate.
PETITION LETTER:
Dear Mr. Gomes,
Brazil houses nearly 15 percent of Earth's rich biodiversity. Rather than respecting these prized ecosystems as treasures, this country too often treats them as cheap junk to be sold to any bidder. Freeland Brasil's 100-page-plus report on Brazilian wildlife trafficking paints a damning portrait of these ecological threats and an even worse picture of insufficient, deeply lacking government response.
Millions of animals, including many endangered wildlife, are illegally exported from and circulated within Brazil under the not-so-watchful-eye of the government. When these criminals are caught, they often receive little more than a few fines and a scolding. Wildlife traffickers are selling Brazil's incredible natural heritage piece by piece, with no consequence.
You must fight for change. Show these true crimes against nature for the reprehensible acts they are by building new, stronger legal penalties. Rescue the world's most diverse and storied ecosystems before they are lost forever.
Sincerely,
[Your Name Here]
Photo Credit: Christian Tørrissen