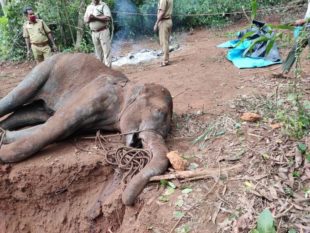 Target: Prime Minister Narendra Modi
Goal: Find and punish those responsible for blowing up a pregnant elephant with an exploding pineapple trap.
A pregnant elephant was simply searching for food when she was blown up and killed by a pineapple that had been stuffed with explosives. It is suspected that the trap had been set by ranchers or hunters looking to kill wild boars in the area. However, there are some reports that the elephant may have been killed by villagers after wandering into town in search of food.
The elephant was a 15-year-old female who was 1 month pregnant. When she bit into the pineapple, the explosive device detonated, causing her jaw to explode into pieces.
"Based on the nature of its wound, we are assuming that it died due to explosives," stated KK Sunil Kumar, Mannarkkad Divisional Forest Officer.
Although killing wildlife in this manner is illegal under India's Wildlife Protection Act, 1972, it is not unusual for violations to occur.
Tragically, the suffering elephant was not killed instantly by the blast. Instead, she lived for a series of days, wandering the jungle with her jaw shattered in pieces. She finally settled into a river in search of relief from the flies that had infested her wounds. Eventually it was there that she succumbed to her injuries.
PETITION LETTER:
Dear Prime Minister Modi,
A pregnant elephant was recently killed by a pineapple filled with explosives. This tragic event occurred in Kerala's Silent Valley National Park.
According to investigators, it is believed the explosive laden pineapple was placed by ranchers or hunters looking to kill wild boars. However, there are some reports that this act may have been perpetrated by villagers looking to keep the elephant out of their town.
Clearly, more resources are needed to properly investigate and prosecute this tragic case. Please support these efforts to your greatest ability.
Sincerely,
[Your Name Here]
Photo Credit: Akshay Kumar