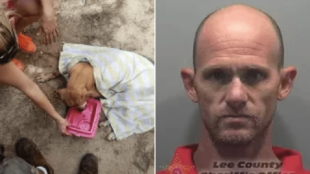 Target: Florida State Attorney of the Twentieth Judicial Circuit Court Amira D. Fox
Goal: Give man strictest punishment under law for allegedly shooting dog in his head and mouth.
Ruby, a lab mix, was apparently shot in the head and mouth by suspected drug dealer Timothy Lancaster. Lancaster needs to be arrested, charged and given the maximum legal penalty if it is found that he mistreated this innocent animal.
Unfortunately, it was reported that Ruby suffered agonizing pain until she could be humanely put down by a veterinarian. Police stated that shell casings were found near the dog. Lancaster was also recently arrested after officers searched his home and reportedly found an Anderson AR-15 assault style rifle, two other guns and various types of drugs. The Anderson AR-15 is banned in Florida, and Anderson is not allowed to own guns because of his past criminal record. Officers suspect that Lancaster has further been involved with drug trafficking.
Since Lancaster allegedly owned illegal weapons and has likely been involved with drug use and trafficking, he is probably a danger to both people and animals. Although these are separate charges, Lancaster's past actions need to be seriously considered when thinking about a potential penalty for his current charge. Sign this petition and demand Lancaster be arrested and given the severest legal sentence for reportedly shooting this helpless lab mix to make it less likely that either people or more animals will have to suffer or die.
PETITION LETTER:
Dear State Attorney Fox,
Authorities are taking the final steps to bring charges against Timothy Lancaster for allegedly shooting a lab mix in the head and mouth. If these allegations are true, he needs to be given the harshest punishment under law to better ensure that he will not be able to harm more animals.
Sadly, Ruby the dog had to be euthanized and most likely went through a great deal of suffering before finally being put to rest by a local veterinarian. Officers allegedly found shell casings close by where the dog was located. Lancaster was also charged with owning an illegal weapon, owning other guns he is not legally allowed to have and with possessing multiple types of drugs. The police further believe that Lancaster has been conducting drug trafficking operations.
If Lancaster is guilty of owning illegal weapons or dealing with heavy illicit drugs, he is likely also capable of hurting or killing a person or another animal. For these reasons, we demand that you suggest Lancaster spend the most time behind bars possible and that you also suggest he pay maximum fines if it is thought he abused this dog in any way to better ensure that other animals and people are safe.
Sincerely,
[Your Name Here]
Photo Credit: Lancaster Sheriff's Office