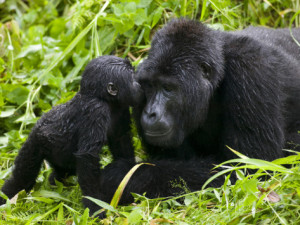 Target: Yoweri Museveni, President of Uganda
Goal: Stop the mountain gorilla's return to the brink of extinction in Africa.
The recent ground-breaking mountain gorilla restoration is in danger of swiftly being undone by the coronavirus threat. Not only is the species just as susceptible to the disease as the human population, but the eco-tourism that was helping them thrive and rebuild their numbers has all but shut down due to recent social distancing orders.
Mountain gorillas have suffered hardships and persecution since the early 20th century. They have been hunted, their habitats have been destroyed by industry and climate change, and they have fallen victim to a variety of diseases. Trinkets were made from the creatures' hands and sold as souvenirs in markets. Conservation efforts started in 1979, and only recently have these efforts borne fruit. Now, the coronavirus could take all of this away. Hunters will start poaching again, and the disease could wipe out the rest.
We cannot let the hard work of mountain gorilla conservationists be undone. We must protect these creatures as best we can during this time of crisis; this includes vaccinations and tightening anti-poaching laws. Sign this petition to urge African governments to ensure the species remains intact.
PETITION LETTER:
Dear President Museveni,
The coronavirus outbreak could destroy all the hard work done to bring mountain gorillas back from the brink of extinction. The species is highly vulnerable to the disease, and a lack of eco-tourism due to social distancing orders could lead to poachers killing them for a profit.
You cannot allow this to come to pass. Mountain gorillas have been endangered for over a century thanks to hunters, climate change, and disease; only recently has the species grown to a healthy number, and we cannot allow the hard work of the conservationists to be undone. Uganda is one of many countries in Africa with a thriving population of mountain gorillas, and you must ensure that it stays that way by vaccinating the creatures and keeping the hunters away.
Sincerely,
[Your Name Here]
Photo Credit: Paul Souders