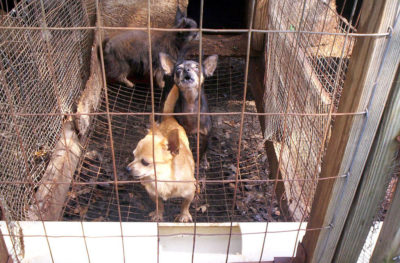 Target: Phil Murphy, Governor of New Jersey
Goal: Shut down all puppy mills across New Jersey.
Puppy mills are still legal in New Jersey, despite constant pushes to get them banned. In 2017, the state was said to be close to shutting down any remaining mills, but recent news sources have reported over 130 animals rescued from horrifying conditions at a mill in Scotch Plains. These poor creatures were discovered crammed into overcrowded cages and living in absolute squalor.
This particular mill was shut down quickly, and pet stores have been forced to crack down on sales of mill puppies. But several mills remain operational in the state. The dogs raised and bred in these mills live in filth, treated as little more than money-making objects by those in charge. Many of the dogs forced to live in these conditions are prone to various diseases and infections, with weaker immune systems than dogs raised in stable and clean environments.
Puppy mills are little more than prisons, and they cannot be allowed to remain operational in New Jersey. Sign this petition to pressure the government to shut down all mills in New Jersey once and for all, and to ban the opening of any new ones.
PETITION LETTER:
Dear Governor Murphy,
Over 130 animals were recently rescued from a New Jersey puppy mill, which was quickly shut down. Unfortunately, this was just one of several puppy mills still operating in the state, despite the government being "close" to shutting them down for good since 2017.
The dogs born and raised in these mills are forced to live in squalor, crammed into overcrowded cages. They are more prone to disease and illness due to weakened immune systems. They are not well cared for at all, treated as little more than objects meant to be sold for a profit. This is unacceptable, and cannot be allowed to continue. You must finalize the ban of puppy mills in this state immediately. Dogs deserve better than to be forced to live in such conditions and treated as collateral.
Sincerely,
[Your Name Here]
Photo Credit: PETA