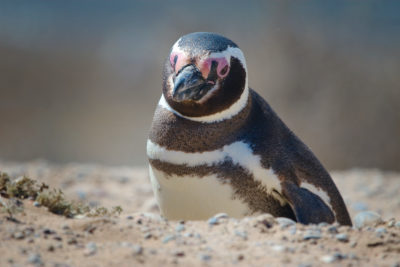 Target: Enzo Benech, Minister of Stockbreeding, Agriculture, and Fisheries of Uruguay
Goal: Protect penguins threatened by fishing and shipping on the coast of South America.
Thousands of female Magellanic penguins are being stranded on beaches far north of their range by fishing and climate change, threatening the future of this crucial species. The fish on which these birds rely are becoming more and more scarce as commercial fishing and pollution shrink their food sources. The male penguins, being larger and stronger, are thought to claim the better remaining food stocks for themselves, forcing the females to travel farther afield. They are then left stranded on beaches hundreds of miles out of their range, exposing them to uncomfortable and unhealthy temperatures, unfamiliar predators, and human activity in Uruguay.
Magellanic penguins, named for Portuguese explorer Ferdinand de Magellan, who first described them in 1520, are currently listed as "near threatened" by the International Union for Conservation of Nature, meaning they are comparatively well-off compared to many other species. However, over-fishing and pollution will continue to harm their chances of healthy survival and resilience to climate change.
These penguins make their home at the southern tip of South America, where they are well-adapted to colder temperatures and little human interference. Oil spills, plastic waste, and commercial activity in their habitat has increased the pressure on these animals to survive while also damaging their food supplies. Many Antarctic predators, like sea lions and leopard seals, depend on the Magellanic penguin as prey, threatening them, as well.
That these birds are forced to go so far from home just to find enough food is a sign of something gone very wrong. It is up to human beings to reduce the pressure on these penguins and ensure they have a fighting chance of survival. Demand that the Uruguayan government act immediately to protect these animals.
PETITION LETTER:
Dear Mr. Benech,
Female Magellanic penguins are being stranded on beaches in Uruguay, hundreds of miles away from their natural habitats and dangerously exposed to unfamiliar threats. The forced separation and stranding of these animals risks pushing this species over the edge into joining hundreds of other threatened species. Commercial fishing, oil spills, pollution and waste, and displacement are needlessly endangering these animals and increasing the risk to their population.
As Minister of Stockbreeding, Agriculture, and Fisheries of Uruguay, it is your duty to protect wildlife on the coast of your country, no matter where they come from. With thousands of these penguins left far from home, they are left vulnerable to unfamiliar predators and further dangers from human activity, all while they slowly starve due to reduced fish populations.
We demand that you act now to protect these unique and beautiful animals by restricting the activities of the fishing industry and reducing pollution in the South Atlantic. The Magellanic penguin doesn't have to go extinct, and if you act now, it won't.
Sincerely,
[Your Name Here]
Photo credit: David