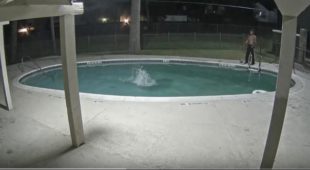 Target: Kim Ogg, District Attorney for Harris County, Texas
Goal: Punish the man who allegedly hit a cat and threw the animal into a pool.
A cat was reportedly thrown into a pool in a horrific case of animal cruelty. Surveillance video apparently showed a man hitting the animal on the head with his shoe to prevent escape from the water. Demand that the person found responsible answer for this crime.
"This video is difficult to watch," stated Constable Alan Rosen of the Harris County Constable's Office. They took 22-year-old Javonte Alexander into custody after he allegedly tortured and possibly killed a cat in an apartment pool. Surveillance video seemingly captured Alexander picking up and throwing the poor cat into the water. He then held the cat underwater and hit the animal on the head with a shoe, investigators stated. The video ended when Alexander reportedly carried the unconscious or dead cat from the scene.
The cat's current condition is unknown at this time. Alexander has been charged with third-degree felony cruelty to non-livestock animals by torture. Sign below and demand that he receive the maximum penalty possible by law, if convicted.
PETITION LETTER:
Dear District Attorney Ogg,
An innocent cat was apparently beaten and forced underwater in an apartment pool. A disturbing video, captured by surveillance cameras, reportedly showed Javonte Alexander beating and forcing the cat into the pool and then holding the poor animal's head underwater. He then seemingly encouraged and even comforted the cat only to throw the animal back into the water and walk away. At some point the cat crawled out for a final time, investigators stated, and Alexander returned to carry the poor thing away in a state of unconsciousness or possibly death.
This innocent animal's current condition is unknown by authorities. Upon his arrest, Alexander reportedly claimed he "had problems with that cat in the past." His apparently sadistic behavior is unacceptable, no matter his "problems," and he must answer for this crime. Demand that Alexander is punished to the fullest extent of the law, if convicted.
Sincerely,
[Your Name Here]
Photo Credit: Harris County Constable's Office Precinct 1