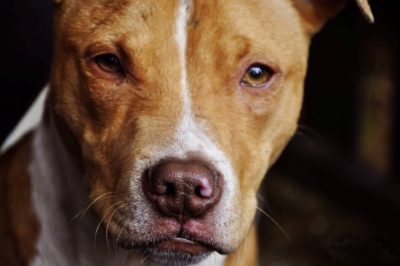 Target: William Bryson, Chief of the Delaware Police Department
Goal: Punish police officers who allegedly shot and ran over stray dogs.
Two Delaware police officers allegedly attacked two stray dogs, running them over with their vehicle and later fatally shooting one of them. According to witness Leigh Spencer, the police accused the dogs of being "aggressive" despite one of them approaching her very calmly; the officers allegedly threatened Spencer with arrest unless she did not leave the scene. Surprisingly, both dogs survived the alleged attack, though their whereabouts are currently unknown.
The dogs were, unsurprisingly, a German Shepherd and a pit bull, two breeds who have come under fire many times in recent years for their "dangerous" reputations. It has been proven time and time again that such dogs are only as aggressive as the humans who train or interact with them, and in this case, the dogs had to have been terrified as they were reportedly chased down by the police. Spencer believes the officers had "provoked" the dogs into such defensive states.
The alleged incident is an ugly combination of animal abuse and police brutality. These poor dogs did nothing wrong, and the officers who allegedly attacked them must be punished for such reported cruelty. Sign this petition to demand these officers be disciplined immediately.
PETITION LETTER:
Dear Chief Bryson,
Two officers under your employ allegedly ran down and shot at a stray German Shepherd and pit bull, and reportedly threatened a witness with arrest when she attempted to aid the animals. According to reports, the officers accused the dogs of "aggressive" behavior, despite the witness's own statement that the animals seemed perfectly harmless. She believes the dogs were "provoked" into aggression by the officers.
The alleged animal cruelty is compounded by the fact that the two dog breeds have come under fire for their "dangerous" reputations, especially pit bulls, despite the fact that dogs are only as aggressive as the humans they interact with. There was no reason for the two officers to allegedly attack these animals, and their reported actions were unjust and wrong. You must discipline them harshly for these alleged actions, as soon as possible.
Sincerely,
[Your Name Here]
Photo Credit: viganhajdari