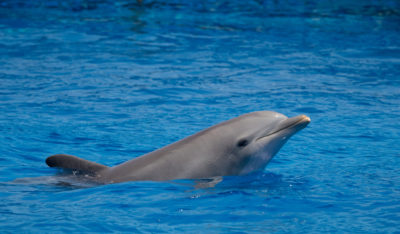 Target: Nicolas Hulot, Environment Minister, France
Goal: Save animals from suffering and reissue the ban on breeding dolphins in captivity.
A hard-earned ban on breeding dolphins in captivity, which was put in place to "end animal suffering," has now been overturned in France. Animal rights advocates are rightly calling this a "historic step backward." The ordinance which has been overturned also included a ban on the use of chlorine in animals' water, and enforced an increase in the size of their pools.
The decree was annulled on technical grounds, when France's Council of State ruled that the ban was initially intended only for orcas and was too hastily expanded to include dolphins "given the threat to the future of aquatic parks." The court held that the owners of such parks should have been consulted first. Former environment minister Ségolène Royal—under whom the ban was originally enacted—said on the subject that it is important for animal welfare to be inscribed into law to change jurists' mentalities. She tweeted about her responsibilities after becoming aware of the "mistreatment" of dolphins, who are "drugged and starved to make them perform, which the spectators don't know." Sign below to demand the protection of these innocent creatures, and that the ban on breeding dolphins in captivity be reissued through all of the proper channels.
PETITION LETTER:
Dear Minister Hulot,
France's decision to overturn the ban on breeding dolphins in captivity is a giant step backward for humanity, compassion, and the protection of animals from mistreatment. Dolphins are exploited by aquatic parks where they are forced to perform, and are often deprived of their needs. The decree that has been overturned required clean water and appropriate space for dolphins, as well as preventing captive breeding.
This vital ordinance must be brought back. As environment minister it is your responsibility to ensure that animal welfare is a priority. The decree was overturned on technical grounds. Therefore I urge you to ensure that the correct procedure is obeyed to reissue this critical ban on breeding dolphins in captivity.
Sincerely,
[Your Name Here]
Photo Credit: William Warby