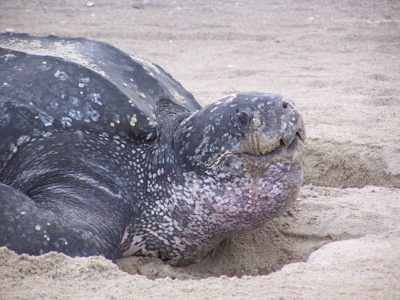 Target: Dr. Timothy Gallaudet, Administrator, NOAA
Goal: Don't eliminate protections for the endangered leatherback sea turtle.
If fishermen in New Jersey have their way, one of the world's largest sea turtles may soon go extinct. Fishermen in New Jersey are asking the federal government to remove the endangered leatherback sea turtle from its endangered species list and eliminate some of its protections.
Fishermen complain that protections are interfering with their work. Nets must be modified, certain areas are off limits to fishing, and they can only fish during certain times. However, removing these protections will undo all of the momentous gains in population and habitat the leatherback turtle has garnered. Fishing remains one of the turtle's leading causes of death.
Sign the petition to demand that the National Oceanic and Atmospheric Administration, or NOAA, maintain regulations that protect the leatherback sea turtle. No life of any animal should be sacrificed for economic gain.
PETITION LETTER:
Dear Dr. Gallaudet,
Fishermen have recently petitioned your organization and demanded that the endangered species status of the leatherback sea turtle be overturned. This species has been listed as endangered since 1970. Fishing, pollution, and more have destroyed its habitat and population.
Fishing remains the leading cause of population decline for the leatherback turtle. If protections are overturned, all gains made over the past several decades will be lost. I ask that your organization maintain protections for the leatherback turtle so that its population can continue to flourish safely.
Sincerely,
[Your Name Here]
Photo Credit: Rabon David