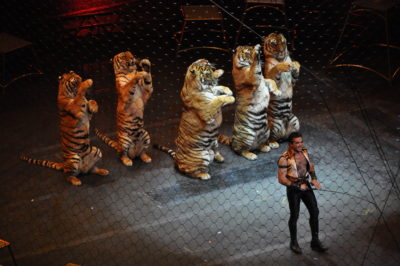 Target: Dave Scott, President and CEO of Spectra by Comcast Spectacor
Goal: Stop all Spectra-owned venues from hosting cruel animal circuses.
Spectra-owned venues, which are scattered across the U.S. and Canada, continue to host animal circuses despite their notorious histories of abuse and neglect. Many venues have already committed to an animal-free policy and it is time Spectra do the same.
Animals trapped in circuses are denied everything natural to them. They often put through a grueling training process that uses fear and pain to coerce them into doing tricks. When the animals are not being forced to perform, they are typically kept in small cages where they are denied proper socialization and sunshine.
Sign this petition to demand Comcast Spectacor end its support of these cruel animal acts.
PETITION LETTER:
Dear Mr. Scott,
Many circuses have a long history of abuse and neglect when it comes to their animals. Despite this information, Spectra-owned venues continue to host animal circuses. It is time to stop supporting these cruel performances.
Many of the animals trapped in circuses were taken from the wild and away from their families. They are then typically put through a painful training process that uses fear tactics to coerce animals into performing. When the animals are not performing in loud, crowded arenas, they are often kept in cages. It is a sad life for these animals and far from their natural, intended life.
Please consider no longer hosting circuses unless they agree to perform without animals. No animal should be abused and exploited for profit.
Sincerely,
[Your Name Here]
Photo credit: chensiyuan