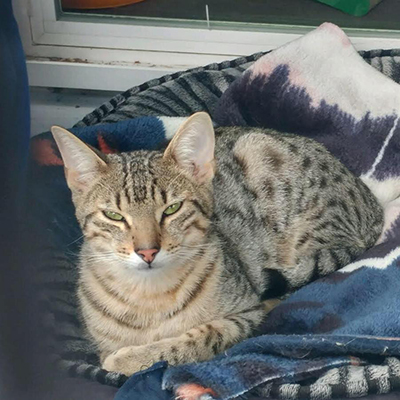 Target: Shawn Ledford, Police Chief for Shoreline, Washington
Goal: Find and severely punish the person who stole a cat from an animal rescue and beat and mutilated him to death.
A cat was found dead and severely mutilated in a dumpster outside an animal rescue facility, after he was apparently stolen from an outdoor enclosure that had been broken into. The one-year-old tabby cat, named Quixote, was a resident at the Whisker City cat rescue in Shoreline, Washington. Volunteers were heartbroken to find him dead after neighbors reported hearing strange sounds the night before the shocking discovery.
The rescue posted on social media, saying that "every bone in his body appears to be broken," and that his murderer had mutilated him, pulling out his eyes and crushing his skull in. A bloodied blanket and a yellow poncho were found in his enclosure, indicating that Quixote had struggled with his attacker before he was killed.
This heartbreaking case of animal abuse must be brought to justice. This is not the first case of recent animal torture in the area, as seen with a similar case last month where a toy poodle was found skinned and mutilated in his owner's backyard. Sign this petition to demand that local authorities do everything they can to ensure that this cat killer is found and severely punished before more innocent animals can be harmed.
PETITION LETTER:
Dear Police Chief Ledford,
A beloved rescue cat was brutally killed in a shocking case of animal cruelty. Volunteers at the Whisker City cat rescue discovered that one-year-old Quixote was missing from his outdoor enclosure. Within hours, they discovered his beaten and mutilated body lying in the facility's dumpster. We demand justice for this poor cat.
Whoever stole Quixote and killed him is a dangerous and violent individual who could cause harm to other animals or people. This person must be found before he or she can lash out again. We urge you to use all available resources to capture this individual so that he or she can face justice for this horrific crime.
Sincerely,
[Your Name Here]
Photo Credit: April Brown/Whisker City