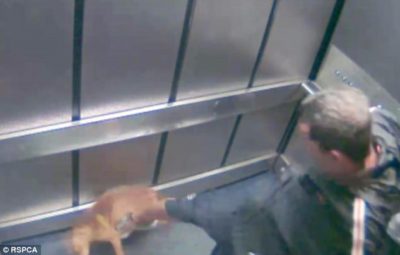 Target: Lisa Stapleton, Waverley Court Honour Magistrate
Goal: Issue harsher penalty for man who was convicted of animal cruelty after violently kicking and punching his dog.
A Staffordshire Terrier was violently beaten inside of an elevator, where the gruesome attack was captured on surveillance cameras. The dog had reportedly run away from the owner after trying to snatch an ice cream from a child, but the poor animal was chased down and cornered. Footage shows the man, 46-year-old Grant Haggart, punching the dog, named Arian, nine times before he begins kicking him in the side. The owner is seen jerking Arian up by his choker chain and swinging him in the air. He then swings Arian over his back before dropping him to the ground. According to the RSPCA, when the dog tries to escape, Haggart kicks him again, drags him by the choker chain, and begins hitting him again.
Unfortunately, poor Arian had to be euthanized because of behavioral problems that the RSPCA staff said made him a risk to staff and potential adopters. The severe abuse poor Arian was subjected to is most likely what caused him to have behavioral problems.
To make matters worse, any chance of Arian getting justice was squashed when the judge decided to let the owner off with a measly fine and a 10-year ban from owning animals. Haggart didn't even show up for court, according to reports. Perhaps the punishment would have been more appropriate if Haggart didn't already have a history of violence. Please sign this petition to demand that the owner receive a harsher penalty and a lifetime ban from owning animals.
PETITION LETTER:
Dear Honour Magistrate Stapleton,
A dog was reportedly chased down, cornered in an elevator, and violently attacked by his owner. Surveillance footage shows the owner punching and kicking the dog relentlessly before swinging him in the air by his choke collar. At one point, the owner swings the dog over his shoulder and drops him. When the dog tries to escape, the owner just continues to kick, punch, and drag him by his choke collar.
This was an extremely violent, relentless attack, but to make matters worse, the owner has a history of violence. Unfortunately, the poor dog's chance at getting justice was squashed when the owner was only fined and banned from owning animals for 10-years. This punishment will do nothing to prevent more attacks on innocent creatures. We, the undersigned, demand that this man's penalty be stiffened and the ban from owning animals be made permanent.
Sincerely,
[Your Name Here]
Photo credit: RSPCA