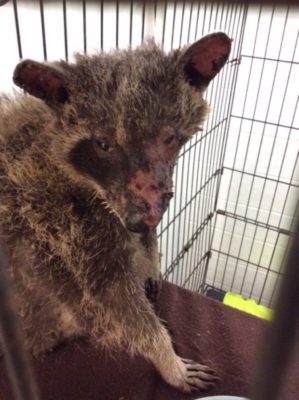 Target: Kimberley Greenwood, Chief of Police, Barrie, Ontario
Goal: Find and punish the person who poured an accelerant on a baby racoon and set it alight.
A raccoon was recently found burned nearly to death, with severe burns covering over half of his body and face. The 3-to-4-month-old raccoon was found in a park by a woman who couldn't identify what kind of animal it was due to the severity of the burns. The woman said that this was not the first time she has encountered animals in distress at the same park, and she has even found dead animals.
According to Debra Spiler, a director at Procyon Wildlife Centre, the injuries look like they were inflicted deliberately. "It looks like someone has thrown an ignitable fluid on the baby and then tossed a match," she said.
The raccoon is currently in critical care and is being treated in an isolation room to prevent infection. It is on painkillers, antibiotics, and has a burn ointment applied twice daily. If it survives, it could require up to a year of continued care and observation.
This shocking and deliberate cruelty is unacceptable. The person responsible, if not apprehended, poses a risk of violence to not only animals, but possibly even humans. In order to protect the community, it's imperative that they are taken off the streets and punished harshly. Sign the petition below to ask police to dedicate extra resources to this case in order to find and charge the person responsible.
PETITION LETTER:
Dear Ms. Greenwood,
A baby raccoon was recently found with severe burns covering much of its body and face. Animal rescue officials suspect that someone poured an accelerant on the animal and set it alight. The raccoon is currently in isolation to prevent infection, and is being given painkillers, antibiotics, and burn ointment. If the animal survives, it could take up to a year of extensive veterinary care to fully heal.
This crime is unthinkably cruel — unfortunately, the woman who found the raccoon said that distressed or dead animals are a common find in the area. It could be possible that someone is committing repeated acts of violence against animals. In order to ensure the safety of the animals and humans in the community, we ask you to do everything in your power to find and charge the person responsible.
Sincerely,
[Your Name Here]
Photo credit: Procyon Wildlife