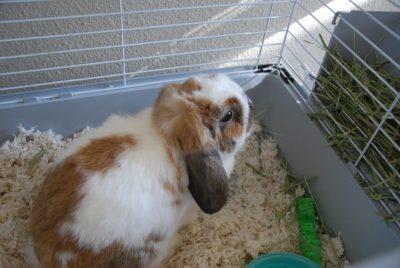 Target: Rich St. John, Billings, Montana Chief of Police
Goal: Demand justice for therapy rabbits killed and posed like pictures.
A disabled Montana woman discovered most of her therapy rabbits killed and posed in her backyard back in May. An investigation is ongoing, but the state animal control and the sheriff's office cannot agree on whether the rabbits were specifically targeted for the crime or if it was a random act of nature. According to news reports, the rabbits' necks were broken, an action associated with abuse from humans, yet animal control still believes it could have been something as commonplace as a dog attacking the creatures.
It is all too possible that this was an act of malice, planned and executed by a human being, and it is a particularly disgusting one. Therapy animals go beyond the status of innocent creature and beloved pet. Many people with disabilities or mental illness have found comfort in keeping therapy animals, be they dogs, cats, or small creatures such as rabbits. In some cases, the animal is the closest friend the disabled person has due to various factors. Sharon Hall is completely despondent over the loss of her beloved rabbits, and was especially traumatized to find them as they were.
All animals must be protected from vicious human abuse, but therapy animals are invaluable. Sharon Hall and her rabbits deserve justice, and the truth must be uncovered as soon as possible. Sign this petition to demand justice for these innocent creatures.
PETITION LETTER:
Dear Chief St. John,
Eleven rabbits were found dead, their necks broken and their bodies posed like a picture. This happened months ago, and the true cause of the deaths has yet to be determined. The rabbits were not only prized show animals, but owner Sharon Hall was a disabled woman who relied on their companionship for therapy.
Therapy animals are invaluable these days; many disabled and mentally ill people rely on cats, dogs, and small animals for friendship and even aid should their problems be serious enough (i.e. a dog who can bark for help if the owner has a fall or a seizure). Hall's rabbits were a source of comfort to her, and should the suspicion of foul play prove true, action must be taken.
Animal abuse is enough of a problem, but something like this is unforgivable. Please uncover the truth of the rabbits' demise and help Hall obtain justice for her pets immediately.
Sincerely,
[Your Name Here]
Photo Credit: FASTILY