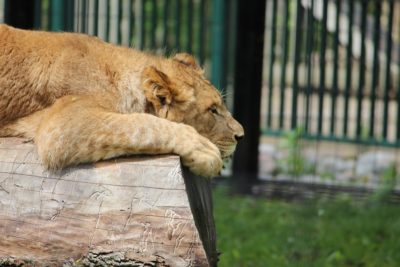 Target: Horatio Rodriguez Larreta, Mayor of Buenos Aires
Goal: Ensure animals rescued from city zoo are well cared for while their new enclosures are being built, a process that may drag on for years.
The Buenos Aires zoo was a landmark after being open for more than 100 years, but last year the zoo was shut down due to poor living conditions for the animals it was built to house, conserve and protect. The animals are not on display in the zoo any longer, but their current living conditions are apparently not any better. Some of the condors were freed and a few hundred animals were transferred to other zoos, but the vast majority of animals from the Buenos Aires zoo are locked away in cages, waiting for construction to be finished.
The city unveiled plans for new habitats with increased biodiversity and natural barriers, along with more green space. While their plans are great, they're focusing on the long-term and these animals need better homes now. Officials cited concerns about placing too much stress on the creatures by moving them, but living in a small cage indefinitely has to be a huge source of stress as well. Sign this petition to demand better living conditions for the zoo's animals.
PETITION LETTER:
Dear Mr. Larreta,
The Buenos Aires zoo was shut down last year for failing to meet the animals' needs. It's been a full year and some of them are still behind bars. That's unacceptable, despite the promising plans you've unveiled for renovations. The plans are set to take far too long, and the animals deserve good homes now. Hundreds of animals are waiting in limbo, rather than being put in nature reserves that could provide better lives for them.
A few hundred animals were relocated as promised, but more than a thousand animals are reportedly still suffering under inhumane conditions, locked in small, sad cages with little to no enrichment. Many of these creatures are quite intelligent, like elephants and apes, and it's truly awful to keep them indoors at all times, never seeing the sun. Please do the right thing and make sure these animals have the best lives possible now, even though the city's zoo cannot provide that to them. Relocate them to nature preserves and wildlife parks.
Sincerely,
[Your Name Here]
Photo Credit: Ray Jeff