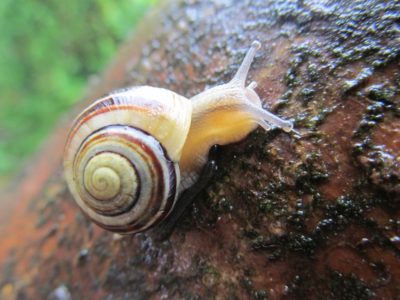 Target: David Ige, Governor of Hawaii
Goal: Save the O'ahu tree snail, an endangered mollusk important to Hawaiian culture.
O'ahu tree snails are found only in Hawaii. There are 41 species of this type of snail, and all are endangered with only around one hundred individuals of each species left. The Hawaiian culture is rich in folklore and traditional music and dance, and the O'ahu tree snail is mentioned in many of their songs and legends. Because there are so few remaining in the wild, action needs to be taken now to save these important creatures from extinction, before they're wiped out forever.
The snails come in many different colors and patterns, and they're unique in that they give birth to live young, instead of laying eggs like most snails do. They are nocturnal and were believed to sing at night, making beautiful music and inspiring Hawaiian artists. People collect the O'ahu tree snails and keep them as pets, and their colorful shells have been used to make leis. The biggest threats are loss of habitat and the introduction of several non-native predators, including Jackson's chameleons and carnivorous snails. Sign this petition to encourage relocation of the Jackson's chameleons in order to save the O'ahu tree snails.
PETITION LETTER:
Dear Governor Ige,
Songs and stories have been written about the O'ahu tree snail for hundreds of years. They're known as the singing shells, and unfortunately they're disappearing. Just one of the many reasons for this is the introduction of the Jackson's chameleon.  These lizards prey directly on the defenseless snails. If the lizards were relocated elsewhere, it would help the O'ahu tree snail population recover. A mass capturing of chameleons will be very time-consuming, but given their popularity in the pet trade, the reptiles will not be without good homes.
The Hawaiian culture is beautiful and unique, and should be protected even in the midst of increasing globalization. Keeping the native species safe from invasive predators is vital to protecting the delicate ecosystem and culture of the area. Please take action to remove the Jackson's chameleons from Hawaii and protect the critically endangered O'ahu tree snails.
Sincerely,
[Your Name Here]
Photo Credit: Celia Berk