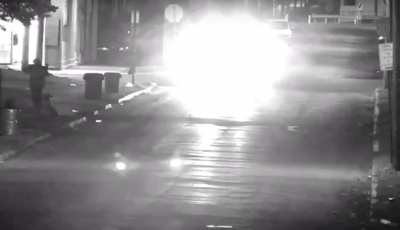 "0" allowfullscreen="allowfullscreen">
Target: Syracuse City Court Judge Derrek Thomas
Goal: Demand prison time for man accused of dragging and beating a dog.
A man in Syracuse, NY has been accused of abusing a puppy, but might get off with nothing more than probation. The man, Steven Bryant, was charged with two counts of animal cruelty by Syacuse police after a tip off from a witness. According to the police, the witness called authorities after seeing Bryant dragging a puppy down the street on a leash. The puppy couldn't keep up, and allegedly ended up being dragged on its stomach along the pavement. All this happened after the witness claimed Bryant hit the small dog with a board.
Afterwards, police said they found the dog suffering from "road rash." Footage of the incident has also been released, and appears to add credence to the witness's allegations. In the grainy surveillance footage, the puppy can indeed by seen struggling to keep up with Bryant's pace, and falls numerous times. Bryant has already pleaded guilty to animal abuse in exchange for three years of probation. However, animal rights advocates argue this is little more than a slap on the wrist.
"He abused this dog over, and over, and over again," animal advocate Stefanie Heath Higgins told broadcaster LocalSYR. "It was a horrendous, horrendous piece of abuse," she said. If you agree Bryant should face jail time, please sign our petition.
PETITION LETTER:
Dear Judge Derrek Thomas,
As the presiding judge in a case of alleged animal abuse, we urge you to enforce the maximum penalty available under NY law against Steven Bryant. Bryant has been accused of dragging and beating a puppy, leaving the animal injured, and suffering from what police described as "road rash." Bryant himself has plead guilty in exchange for probation, but animal rights advocates say this isn't enough.
All too often, animal abuse cases simply aren't prosecuted to the fullest extent of the law. Indeed, in NY animal abuse misdemeanors can carry a maximum penalty of one year imprisonment and/or a fine of $1000. Even the Onondaga County District Attorney's Office says Bryant should face jail time, and is pushing for a penalty of 10 months behind bars.
Indeed, the footage of Bryant dragging the poor puppy is shocking enough, but what's more shocking is the prospect of him getting off with nothing more than probation. Therefore, if found guilty, we urge you to prosecute Bryant to the fullest extent of the law, and put him behind bars. This will send a strong message that animal abuse isn't welcome in Syracuse.
Sincerely,
[Your Name Here]