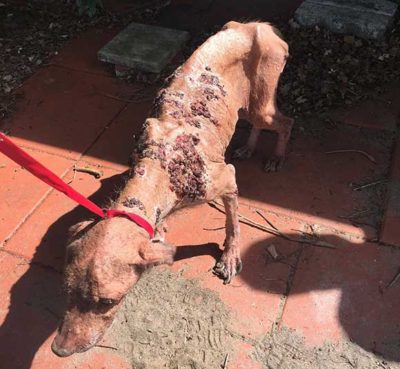 Target: Phil Archer, State's Attorney for Brevard County, Florida
Goal: Demand the maximum penalty for the woman who allegedly starved two dogs and neglected to provide them with necessary medical care.
A dog was hospitalized with severe malnutrition after she was allegedly starved and neglected. A second dog was reportedly kept in an enclosed porch without access to food or water.
Officers with the Palm Bay Police Department and Brevard County Animal Control removed two dogs from Claire Mimier's home after they were reportedly found to be malnourished and in poor condition. Per officers, one dog had sores all over her body and was dangerously emaciated, while the other dog lived on an enclosed porch surrounded by her own feces.
The dogs were taken to a veterinarian for medical treatment and are recovering. Mimier was charged with one count of felony animal cruelty and one count of misdemeanor animal cruelty. Sign below and demand that Mimier receive the maximum penalty by law, if convicted.
PETITION LETTER:
Dear State's Attorney Archer,
Two dogs were reportedly starved and neglected in a Palm Bay home. One was reportedly so thin that her shoulder blades and spine showed through her skin. We demand justice for these innocent dogs.
Per animal control officers, the dogs were in serious need of medical care. One dog's nails were reportedly three inches long and had begun to curl. The other dog was reportedly covered in untreated open sores and scabs. Both of the dogs reportedly suffered from malnutrition and had no access to food or water.
This alleged abuse cannot go unpunished. We demand that you seek the maximum penalty in this case.
Sincerely,
[Your Name Here]
Photo Credit: Palm Bay Police