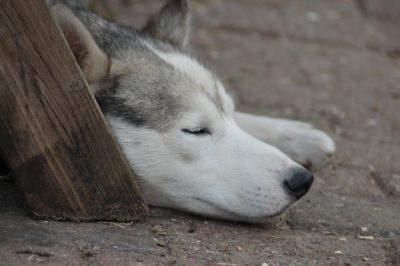 Target: Michael J. Satz, State Attorney for Broward County, Florida
Goal: Demand that the man who allegedly stabbed his dog with a kitchen knife receive the maximum penalty possible.
A dog was injured after her owner allegedly stabbed her with a kitchen knife. The dog was reportedly locked in a crate when the stabbing occurred. Demand that justice is served for this innocent dog.
A witness to the incident told police the horrifying story. Nala, a Husky, was reportedly locked inside of her crate and barking. The witness says that Michael O'Brien, Nala's owner, became frustrated with Nala's barking and proceeded to jab at her through the crate with a kitchen knife. Blood allegedly poured from a wound in her front leg and pooled on the bottom of the crate. O'Brien took Nala to an animal hospital but reportedly told the veterinarian that she had run into a glass door.
Nala received treatment and is now in the custody of animal control. O'Brien admitted to the stabbing and has been arrested and charged with animal cruelty. Sign below and demand that the maximum penalty be assigned in this case.
PETITION LETTER:
Dear State Attorney Satz,
A dog was reportedly stabbed in the leg because she was barking. She suffered considerable blood loss and had to be resuscitated. We demand that justice is served for this innocent dog.
The veterinarian at the LeadER Animal Specialty Hospital became suspicious of the dog's owner, Michael O'Brien, after his story did not match the dog's injury. When an anonymous caller contacted the police, an investigation was launched. The caller, a man who was in O'Brien's apartment at the time of the alleged stabbing, reported that O'Brien had stabbed the dog with a kitchen knife while she was locked in a crate. It was also the witness who convinced O'Brien to get the dog medical care.
This horrific act of abuse cannot go unpunished. We demand that you seek the maximum penalty in this case.
Sincerely,
[Your Name Here]
Photo Credit: Heis