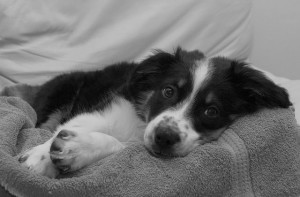 Target: President of the Police Force Tibor Gaspar
Goal: Demand that the police find and punish the person who used a puppy as target practice; leaving over 90 lead pellets in the animal's body.
Jana Hojstricova Bojkovska had no idea what kind of abuse her newly adopted puppy, Arsi, had endured before the dog was x-rayed at the vet. To her horror, she found that her new beloved pet was riddled with over 90 air rifle pellets. Now this poor puppy will have to undergo a painful and expensive surgery to remove the pellets which are lead and might cause further health problems if they are not removed.
Bojkovska describes Arsi as loving to swim and being very protective of the family that adopted her from a shelter. Little Arsi was unable to tell her owners that she was still riddled with bullets or of the horrors she had faced. Bojkovska took her to the vet after noticing a wound on the dogs neck. Bojkovska is trying to raise the money for the expensive surgery to ensure the dog lives a comfortable and healthy life after all of her suffering.
She now resides happily in the little Slovakian village of Bernolakovo, but the criminal that caused her so much suffering is still unknown and unpunished. The person or people might still be torturing innocent animals, and those animals might not be as lucky as Arsi. Sign this petition to urge the police to swiftly deliver justice to the sadistic individual who hurt this puppy.
PETITION LETTER:
Dear Police Force President Gaspar,
In the little Slovakian village of Bernolakovo a young dog was found to have been riddled with over 90 lead air rifle pellets. The abused dog was evidently used as a target practice in a cruel game. A person that is capable of doing this kind of thing will likely do it again, and cause another animal or person to suffer.
Jana Hojstricova Bojkovska discovered that her newly adopted puppy, Arsi, had been shot many times after taking her to the vet for a neck wound. The poor dog must now go through painful and expensive surgery. The puppy must have suffered horrible pain and fear at the hands of a monstrous abuser.
The police have yet to find and punish the person who committed this horrible act of cruelty. This disturbed person must be found to ensure that they can no longer abuse innocent animals.
Sincerely,
[Your Name Here]
Photo Credit: Ted-Van-Pelt