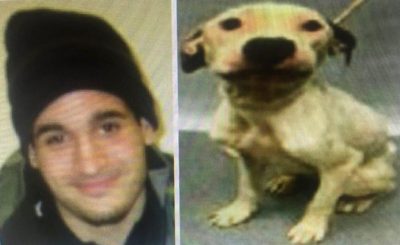 Target: Cyrus Vance, Jr., District Attorney of New York County
Goal: Harshly punish men who allegedly trapped starving dog in a suitcase and threw him in the dumpster to die.
An emaciated dog was found after being stuffed into a suitcase and tossed in the dumpster to die. Miraculously, the dog was still alive when a carting company employee discovered him in the suitcase. According to police, the poor dog had been there for two days.
Authorities identified the main suspect as Bryan Leppe, a 22-year-old man. The dog's owner, Alec Litzinger, is also suspected of being complicit. According to police, Litzinger allowed the poor dog to starve before Leppe threw him away like trash. Officials say the dog was handed over to the ASPCA and is expected to recover.
This dog was locked in a dark suitcase where he was forced to await a slow, terrifying death for no reason. Sign this petition to demand that the owner be harshly punished and banned from owning animals, if guilty.
PETITION LETTER:
Dear Mr. Vance,
A pit bull, who was disturbingly emaciated, was found inside of a suitcase that had been thrown in the dumpster. The innocent animal had been suffering inside the dark death trap for two days, according to authorities.
We urge you to help prevent this horrifying incident from happening again by ensuring that the people responsible are harshly punished and banned from owning animals.
Sincerely,
[Your Name Here]
Photo credit: New York Police Department