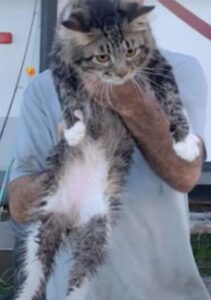 Target: Florida District Attorney R.J. Larizza
Goal: Pursue maximum penalty for woman accused of throwing her boyfriend's cat in the river.
A 53-year-old Oak Hill, FL woman named Christa Thistle has recently been accused of attempting to drown a cat in the river near her home. After a altercation with her live-in boyfriend led to their split, she allegedly demanded he move out of the house and began throwing out his things. According to reports, one personal item happened to be his nine-month-old cat, Stanley. Stanley was resting in his crate at the time of the breakup and was allegedly still inside of it when he was picked up and thrown into a nearby river. Thistle's explanation for this reportedly was that her ex "wasn't moving out fast enough."
The cat was apparently underwater for nearly 30 seconds before Thistle's ex jumped in and saved him. Police arrived soon after, stating that they found Stanley "wet and shivering," but luckily with no major injuries. They arrested and charged Thistle on counts of animal cruelty, and she is being held without bond for assault.
Stanley was taken in by the Volusia County Animal Services and is safe and cared for, soon to be placed in a new home. His alleged abuser is still residing in jail due to her apparent history of domestic violence charges. She denies the animal abuse, but justice must be served for Stanley. Sign the petition below to demand she receive the maximum penalty for this attempt on Stanley's life, if found guilty.
PETITION LETTER:
Dear Mr. Larizza,
A resident of your district, Christa Thistle, has recently been arrested and charged with counts of animal cruelty for allegedly throwing a nine-month-old cat into the river after a fight with her ex boyfriend. It appears that he was locked in his crate at the time and had no chance of survival if he wasn't rescued. Additionally, Thistle has been charged for threatening her ex, and has an apparent history of domestic violence.
These alleged crimes are despicable, and appear to show Thistle's disregard for all forms of life around her. Please ensure she is prosecuted and receives the maximum penalty for her actions if she is found guilty.
Sincerely,
[Your Name Here]
Photo Credit: Volusia County Sheriff's Office